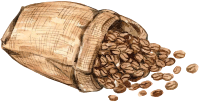 HIGH QUALITY AND DELICIOUS
Sahure Hanım Turkish Coffee is finely produced from high quality Arabica coffee beans. And we serve you the taste in its special package preserving its unique aroma and flavor it has during milling.

We combine all values represented by the classical Turkish Coffee with the technology of the 21st Century and redefine the Turkish Coffee in today's circumstances along with our expert and experienced team.
FROM TRADITION TO THE FUTURE
We endeavor to carry our traditions into today's world. We look at the future with a respect to the past.
We contribute to the social and culture life of today's society with the values of Sahure Hanım Turkish Coffee.